POP STREET SOUND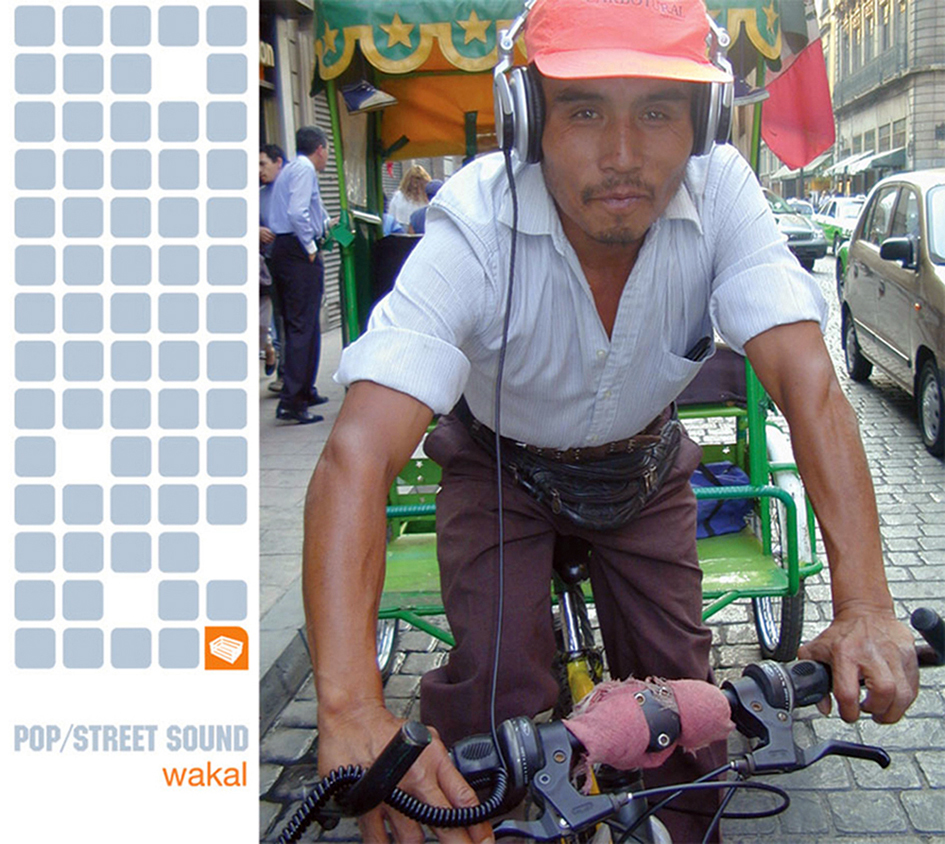 All songs written, produced & mixed by Jorge Govea at idEA studios (improvisados dE Azotea)
www.wakal.com
idEA studios © 2003
Label: Discos Konfort
Art Direction – Wakal
Design – Vate (2)
Drum Programming, Guitar, Keyboards, Vocals, Percussion, Sampler, Recorder – Wakal
Mastered By – Grabaciones del Cuarto Blanco
Photography By – Adán Guitiérrez, Miguel Barbosa
Written By, Producer, Mixed By – Wakal
TRACK LIST:
01 Terraza mantel
02 Show merolico
03 Casa hogar: México D.F.
04 Instrucciones para soñar
05 El Túnel
06 Que?
07 Accordion lover
08 Señoras house
09 Hombre bala
10 My computers vacations
11 Esta tarde
12 Aspirinapara un homeless
13 Recodo and I
26 La peste
"To the people of this city who participated anonimously to this cd."
POP / STREET SOUND
Wakal.
Con este álbum pude conocer la Ciudad de México de una manera distinta, entendí que su gente, su ruido y su lenguaje son una parte muy importante de su identidad, pero pareciera que la rutina diaria en la que vivimos nos priva del interés de observar y escuchar todo lo que sucede en ella.
Comencé a grabar la ciudad en el año 2000, fueron muchas horas de escuchar, esperar y viajar sin una dirección específica, poco a poco me di cuenta de que en la calle hay muchos personajes, música e historias verdaderamente fascinantes. El sonido que emana esta ciudad es único y lo diferencia de cualquier otro lugar.
Yo creo que en esta ciudad hay tanto ruido que terminas acostumbrándote a él. ¿Será porque todos formamos parte de esta "mancha sonora"?…. mas bien yo creo que me harté tanto de este ruido que terminé grabándolo.
Todos los tracks los compuse, grabe, edité y mezclé en varias azoteas de la ciudad, en pequeños cuartos con vista de tinacos y antenas de TV. Cada track incluido en el CD es como un cortometraje (según yo), una breve historia que relato con sus personajes y sonidos en estado natural. Creo que la verdadera personalidad del DF se encuentra en la calle, el metro, los autobuses, pasos a desnivel, mercados y ejes viales … una personalidad llena de talento.
No sé si este álbum es reflexión, crítica, burla u homenaje, yo traté que la música hablara por si sola, porque finalmente al escuchar la mezcla de todos estos sonidos de las calles del DF en un track de música electrónica no me trajo otra cosa a la cabeza mas que una especie de POP de esta ciudad".
POP / STREET SOUND
Wakal.
With this album I did get to know Mexico City in a different way, I understood that its people, its noise and its language are a very important piece of its identity. It seems to be though, that our every day routine takes away our interest to watch and to listen to every single thing going on around us.
I started recording the city in 2000. I spent many hours listening, waiting and traveling without a specific direction. Gradually I realized that the streets are full of characters, music and truly fascinating stories. The sound that this city emits is unique and makes it different from any other place.
I believe that there is so much noise here that you end up getting use to it. Would it be probably because we're all part of the same "sound blur"?…I rather believe that I got so fed up with all that noise that I ended up recording it.
I composed, recorded, edited and mixed all the tracks that at building roofs and small rooms with a view of water tanks and TV antennas. Each track in this CD is like a short film (according to me), a brief story that I tell describing characters and sounds in their natural environment. I think that the true personality of Mexico City is based on the streets, the subway, the buses, the underpasses, the markets and freeways…a personality full of talent.
I don't know if this album is about reflection, criticism, sarcasm or homage, I tried to make the music speak for itself. When I finally listened to the mixture of all those sounds from the streets of Mexico City in a track of electronic music, I could not think of anything but a sort of POP sound for this city".