DESVIA SI ON AGAIN
Album:
Art Direction – Wakal
0,Drum Programming, Guitar, Keyboards, Vocals, Percussion, Sampler, Recorder – Wakal ( Jorge Govea )
Year 2005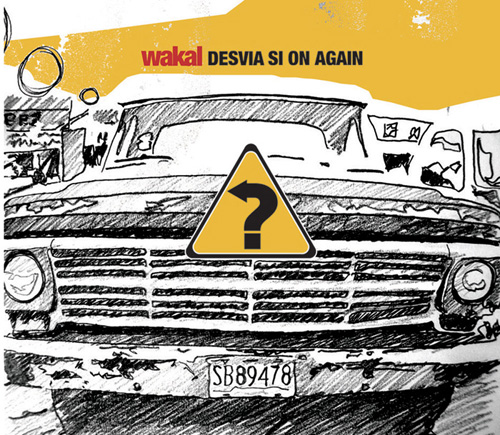 01 The Time
02 Orale
03 Again
04 Mi Mejor Amigo
05 Recuerdos De Un Viaje Pendiente
06 Summer Night
07 Ataole
08 Eva
09 Jet Lag
10 Esquiva
11 Tu Sonrisa
12 Este Pinche Disco
WAKAL / DESVIA SI ON AGAIN
Art Direction – Wakal
Drum Programming, Guitar, Keyboards, Vocals, Percussion, Sampler, Recorder – Wakal ( Jorge Govea )
This disk represents an urban sign that indicates
"Divert if on again?" , something like "DEVIATION AGAIN?"

Dedicated to the World Migration Phenomenon, where people move to find new spaces to live and express themselves.
This idea is represented in an altered traffic symbol that makes me think "where am I from where I am from where I come from and where I am going"
This album summarizes a stage in my life, a journey full of pending things, memories, dreams, Ideas.
Some of the songs I started in Mexico and others I finished in Paris where I am supposed to live now.
This album was finished in the year 2004 on the 18th arrondissement in Paris, France. This is one was the last popular neighborhoods of this city, a place with a great immigrant concentration from almost all of the third world countries. Unlike what happens in almost all the bourgeois zones in the world, this place comes to life thanks to the social mix and the energy coming from these people. All of them are looking for a new direction, an expression and living space and a different life opportunity, in this "everybody's road and no-man's-land".
The sound of this album is a mixture of sensations, experiences and memories integrated into the Electro Pop Click & Cuts sound, with authentic, deconstructed, fun introspective sounds, fresh experimental Rock for the urban aesthetic dance floor, some tracks remarkably linked to Mexico result of a period of travel.
Wakal will present *LIVE ACT* (Urban Mexican Electronic Music). His performance will be a mix of field recordings, sounds of the streets, and popular melodies adapted to dancefloor, electro, cumbia and rock rhythms.